Departament de Traducció i d'Interpretació
The Universitat Autònoma de Barcelona is a referent in Europe so much for its teaching quality as for its commitment to innovation in research. The University was founded in 1968 and it has become a model to follow because of its will to contribute to social progress by training the professionals required by the most dynamic economic and social sectors in the country.
The UAB was one of the first universities of the Spanish State in being acknowledged as Campus of International Excellence. This Program promotes alliances of institutions that have a common strategic project aiming to create an academic, scientific, entreprenurial and innovative environment to get a high international visibility. The University proposal is the project "UABCEI: Aposta pel coneixement i la innovació" (UABCIE: Committment to knowledge and innovation). This is an strategic plan that seeks to make a dynamic RDI environment aiming to make the UAB one of the best European Universities.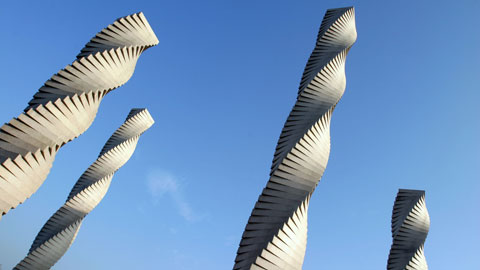 Recent Submissions
(Date of defense:

14-09-2016

)

Joan Oliver és un dels autors cabdals de la literatura catalana contemporània. Malgrat que l'obra poètica i dramàtica és ben coneguda, no ho són tant les traduccions, sobre les quals s'han dut a terme pocs estudis. Sobretot ...

(Date of defense:

20-07-2016

)

Avel·lí Artís-Gener (Barcelona, 1912-2000), conegut amb el pseudònim de Tísner, fou un home de lletres complet compromès amb la llengua i la literatura, i la traducció va ser una més d'aquestes activitats intel·lectuals ...

(Date of defense:

01-07-2016

)

Esta tesis doctoral analiza las voces superpuestas de películas multilingües en Polonia. Primero se centra en diferentes técnicas de traducción y sincronización aplicadas en las voces superpuestas en películas multilingües ...

(Date of defense:

15-01-2016

)

Manuel de Pedrolo, una de les figures més rellevants de la literatura catalana del segle XX, sobresurt també per una dilatada i prolífica trajectòria com a traductor, amb quaranta-tres traduccions publicades, pertanyents ...

(Date of defense:

22-01-2016

)

Helena Valentí, escriptora i traductora estudia l'obra narrativa i de traducció d'Helena Valentí. L'objectiu general de la tesi és recuperar la figura d'Helena Valentí. Per això, en la primera part se'n reconstrueix la ...