Departament de Química
The Universitat Autònoma de Barcelona is a referent in Europe so much for its teaching quality as for its commitment to innovation in research. The University was founded in 1968 and it has become a model to follow because of its will to contribute to social progress by training the professionals required by the most dynamic economic and social sectors in the country.
The UAB was one of the first universities of the Spanish State in being acknowledged as Campus of International Excellence. This Program promotes alliances of institutions that have a common strategic project aiming to create an academic, scientific, entreprenurial and innovative environment to get a high international visibility. The University proposal is the project "UABCEI: Aposta pel coneixement i la innovació" (UABCIE: Committment to knowledge and innovation). This is an strategic plan that seeks to make a dynamic RDI environment aiming to make the UAB one of the best European Universities.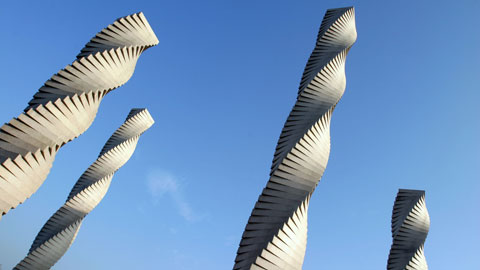 Recent Submissions
(Date of defense:

11-12-2015

)

Aquesta tesis doctoral té com a objectiu principal estudiar a nivell teòric mecanismes de reaccions catalitzades per metalls de transició. Concretament, ens hem centrat en el estudi mecanístic d'algunes de les reaccions ...

(Date of defense:

28-07-2016

)

Los materiales compuestos por grafeno y nanotubos de carbono (CNTs) han despertado un amplio interés debido a sus propiedades excepcionales. La variación de éstas, empleando diversas técnicas de modificación aumentan sus ...

(Date of defense:

22-07-2016

)

Esta Tesis está centrada en el diseño, síntesis y caracterización de nuevos materiales moleculares multifuncionales basados en sistemas Dador-Aceptor (D-A) formados por la unidad dadora de electrones tetratiafulvaleno (TTF) ...

(Date of defense:

25-05-2016

)

Malgrat el gran nombre d'estudis experimentals i computacionals sobre l'estructura i funció de les proteïnes quinases, els detalls exactes dels canvis estructurals i mecanístics dels passos individuals de la reacció ...

(Date of defense:

20-05-2016

)

En el trabajo presentado en esta tesis, se continúa con 2 líneas de trabajo iniciadas en el Grupo de Química Inorgánica y Catálisis del Instituto de Ciencias Materiales de Barcelona (ICMAB-CSIC), basadas en el desarrollo ...