Departament de Telecomunicació i Enginyeria de Sistemes
The Universitat Autònoma de Barcelona is a referent in Europe so much for its teaching quality as for its commitment to innovation in research. The University was founded in 1968 and it has become a model to follow because of its will to contribute to social progress by training the professionals required by the most dynamic economic and social sectors in the country.
The UAB was one of the first universities of the Spanish State in being acknowledged as Campus of International Excellence. This Program promotes alliances of institutions that have a common strategic project aiming to create an academic, scientific, entreprenurial and innovative environment to get a high international visibility. The University proposal is the project "UABCEI: Aposta pel coneixement i la innovació" (UABCIE: Committment to knowledge and innovation). This is an strategic plan that seeks to make a dynamic RDI environment aiming to make the UAB one of the best European Universities.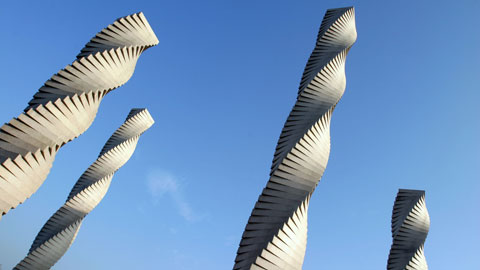 Recent Submissions
(Date of defense:

06-09-2016

)

Aquesta tesi explora l'aplicació de tecnologies en l'àmbit de l'audiodescripció per tal de semiautomatitzar-ne el procés. D'una banda, s'implementa la síntesi de parla en la locució de l'audiodescripció en català i, de ...

(Date of defense:

25-07-2016

)

Hoy en día, los controladores proporcionales integrales y proporcionales integrales derivativos son los algoritmos de control más utilizado en la industria. Por otra parte, los controladores fraccionarios han recibido ...

(Date of defense:

04-07-2016

)

Desde los inicios de la revolución microelectrónica, su evolución tecnológica siempre se ha visto marcada por la búsqueda constante de dispositivos y sistemas electrónicos monolíticos más compactos, fiables y robustos, ...

(Date of defense:

14-03-2016

)

La investigación que se presenta en esta tesis, se enfoca en el análisis a nivel micro y macro de la posiciones atemporales de trayectorias aéreas en la fase de ruta, obtenidas a partir del uso de una transformación ...

(Date of defense:

25-01-2016

)

En las últimas décadas, la globalización ha impulsado la adaptación del sector del Transporte y la Logística a las nuevas demandas sociales. Al mismo tiempo, el transporte ha sido la columna vertebral de la globalización. ...