Departament de Microelectrònica i Sistemes Electrònics
The Universitat Autònoma de Barcelona is a referent in Europe so much for its teaching quality as for its commitment to innovation in research. The University was founded in 1968 and it has become a model to follow because of its will to contribute to social progress by training the professionals required by the most dynamic economic and social sectors in the country.
The UAB was one of the first universities of the Spanish State in being acknowledged as Campus of International Excellence. This Program promotes alliances of institutions that have a common strategic project aiming to create an academic, scientific, entreprenurial and innovative environment to get a high international visibility. The University proposal is the project "UABCEI: Aposta pel coneixement i la innovació" (UABCIE: Committment to knowledge and innovation). This is an strategic plan that seeks to make a dynamic RDI environment aiming to make the UAB one of the best European Universities.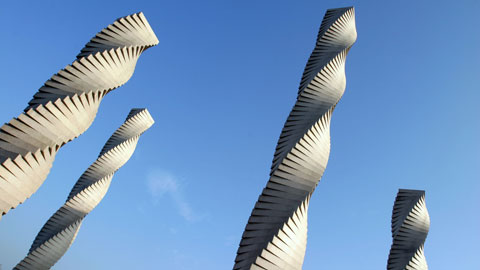 Recent Submissions
(Date of defense:

19-07-2016

)

Els filtres de partícules (FPs) són una tipologia de tècniques d'estimació bayesiana basades en simulacions Monte Carlo que es troben entre els sistemes d'estimació que ofereixen millors rendiments i major flexibilitat ...

(Date of defense:

18-05-2016

)

Los dispositivos FPGA persisten como componentes fundamentales para el diseño y evaluación de sistemas electrónicos. En el caso de las FPGAs basadas en memoria SRAM de Xilinx, éstas soportan Reconfigurabilidad Parcial ...

(Date of defense:

05-02-2016

)

Esta tesis aborda el problema de cómo utilizar simuladores ABM para la supervisión, control y adquisición de datos (SCADA) en aplicaciones del área industrial. Mayormente el uso de los simuladores se limita a la etapa de ...

(Date of defense:

08-02-2016

)

Els últims avenços en els sistemes reconfigurables han fet possible que les darreres famílies de FPGAs tinguin prou recursos per permetre la implementació de sistemes multiprocessadors utilitzant més de 100 nuclis (soft-core) ...

(Date of defense:

03-12-2014

)

La discapacitat visual és una greu amenaça que limita la capacitat de les persones per comunicar-se. Amb els anys, s'han explorat diverses propostes tecnològiques basades tan en estímuls auditius com tàctils per aportar ...