Departament de Ciència Animal i dels Aliments
The Universitat Autònoma de Barcelona is a referent in Europe so much for its teaching quality as for its commitment to innovation in research. The University was founded in 1968 and it has become a model to follow because of its will to contribute to social progress by training the professionals required by the most dynamic economic and social sectors in the country.
The UAB was one of the first universities of the Spanish State in being acknowledged as Campus of International Excellence. This Program promotes alliances of institutions that have a common strategic project aiming to create an academic, scientific, entreprenurial and innovative environment to get a high international visibility. The University proposal is the project "UABCEI: Aposta pel coneixement i la innovació" (UABCIE: Committment to knowledge and innovation). This is an strategic plan that seeks to make a dynamic RDI environment aiming to make the UAB one of the best European Universities.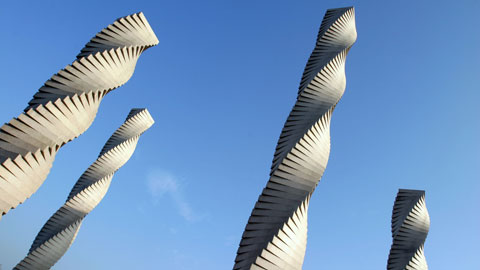 Recent Submissions
(Date of defense:

08-07-2016

)

L'avaluació de les emocions és un dels principals objectius de la ciència del benestar animal. El test del biaix cognitiu (BC) s'ha proposat com una mesura per avaluar la valència (positiu vs. negatiu) i la intensitat de ...

(Date of defense:

17-12-2015

)

Als països mediterranis la majoria de bestiar d'engreix s'alimenta amb dietes riques en concentrat amb una ràtio de pinso i palla de 90:10, ambdós ad libitum, en menjadores separades. El cost del pinso (preu dels ingredients ...

(Date of defense:

16-11-2015

)

En els darrers anys, la caracterització del transcriptoma s'ha convertit en un tema candent a la recerca genòmica, ja sigui en humans o en animals. En aquests últims, els avanços en transcriptòmica tenen com a principal ...

(Date of defense:

15-02-2016

)

La utilització d'olis natius d'origen vegetal (VO) en dietes per peixos com a substituts de la font lipídica tradicionalment utilitzada, l'oli de peix (FO), es veu limitada degut a la creixent demanda per part de les ...

(Date of defense:

30-11-2015

)

El consum habitual de fruita (com el kiwi) en la dieta té un efecte molt beneficiós per a la salut. No només és una excel·lent font de vitamines, fibra i minerals, sinó que a més posseeix compostos fitoquímics que contribueixen ...