Departament de Farmacologia, de Terapèutica i de Toxicologia
The Universitat Autònoma de Barcelona is a referent in Europe so much for its teaching quality as for its commitment to innovation in research. The University was founded in 1968 and it has become a model to follow because of its will to contribute to social progress by training the professionals required by the most dynamic economic and social sectors in the country.
The UAB was one of the first universities of the Spanish State in being acknowledged as Campus of International Excellence. This Program promotes alliances of institutions that have a common strategic project aiming to create an academic, scientific, entreprenurial and innovative environment to get a high international visibility. The University proposal is the project "UABCEI: Aposta pel coneixement i la innovació" (UABCIE: Committment to knowledge and innovation). This is an strategic plan that seeks to make a dynamic RDI environment aiming to make the UAB one of the best European Universities.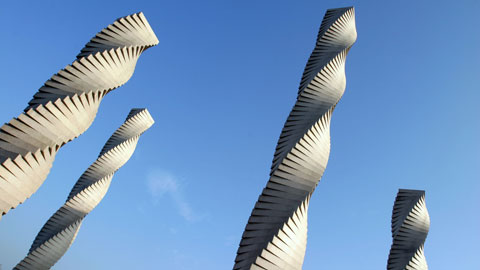 Recent Submissions
(Date of defense:

25-07-2016

)

Introducción: El síndrome de Down es un trastorno del neurodesarrollo causado por la trisomía 21 que conduce a una serie de déficits cognitivos y funcionales, un alto riesgo de desarrollo precoz de la enfermedad de Alzheimer ...

(Date of defense:

21-07-2016

)

La fibril·lació auricular (FA) és l'arítmia crònica més freqüent. S'associa amb una àmplia varietat de malalties cardiovasculars i les seves conseqüències clíniques més importants són un major risc d'ictus i mortalitat ...

(Date of defense:

18-07-2016

)

En la població pediàtrica les reaccions adverses a medicaments són una causa important de morbimortalitat. El reconeixement per part dels prescriptors de la necessitat d'avaluar l'eficàcia i la seguretat dels medicaments ...

(Date of defense:

25-05-2016

)

La mefedrona (4-MMC, 4-metilmetcatinona) es un análogo sintético de la catinona, la sustancia psicoestimulante contenida en el khat. Químicamente es un derivado de la feniletilamina que comparte la misma estructura que la ...

(Date of defense:

14-04-2016

)

El asma es una enfermedad crónica de las vías respiratorias cuyo abordaje terapéutico actual no frena su progresión, y en ocasiones no revierte la sintomatología. El análisis de mecanismos endógenos de protección puede ...