Departament d'Enginyeria Electrònica
The Universitat Autònoma de Barcelona is a referent in Europe so much for its teaching quality as for its commitment to innovation in research. The University was founded in 1968 and it has become a model to follow because of its will to contribute to social progress by training the professionals required by the most dynamic economic and social sectors in the country.
The UAB was one of the first universities of the Spanish State in being acknowledged as Campus of International Excellence. This Program promotes alliances of institutions that have a common strategic project aiming to create an academic, scientific, entreprenurial and innovative environment to get a high international visibility. The University proposal is the project "UABCEI: Aposta pel coneixement i la innovació" (UABCIE: Committment to knowledge and innovation). This is an strategic plan that seeks to make a dynamic RDI environment aiming to make the UAB one of the best European Universities.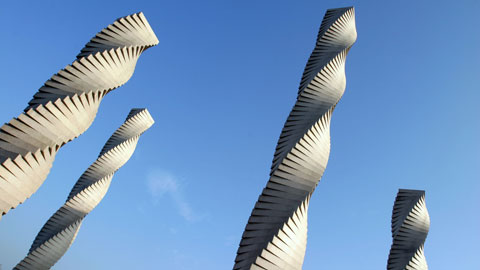 Recent Submissions
(Date of defense:

08-07-2016

)

En la búsqueda de herramientas de diagnóstico más eficientes, los dispositivos biosensores basados en resonadores micro y nanoelectromecánicos han demostrado un gran impacto en este ámbito debido a su alta sensibilidad, ...

(Date of defense:

18-03-2016

)

La tesi doctoral titulada "Focused ion beam implantation as a tool for the fabrication of nano electromechanical devices" aborda el repte de la fabricació de ressonadors nano-mètrics des d'una nova òptica basada en la ...

(Date of defense:

15-03-2016

)

Los metamateriales (MTMs) representan una interesante área de investigación emergente que promete lograr un importante progreso tecnológico y científico en diversas áreas como las telecomunicaciones, la microelectrónica, ...

(Date of defense:

18-12-2015

)

Los dispositivos de Memoria Resistiva de Acceso Aleatorio (RRAM) han sido propuestos como posibles candidatos para substituir a las tecnologías actualmente empleadas como dispositivos de memoria no volátil. El origen de ...

(Date of defense:

19-06-2014

)

Se han desarrollado sondas de SPM conductoras y aisladas para la caracterización por microscopía de impedancia de barrido en medio ambiente líquido. Las sondas se han desarrollado debido a la necesidad de caracterizar ...