Departament d'Enginyeria Química
The Universitat Autònoma de Barcelona is a referent in Europe so much for its teaching quality as for its commitment to innovation in research. The University was founded in 1968 and it has become a model to follow because of its will to contribute to social progress by training the professionals required by the most dynamic economic and social sectors in the country.
The UAB was one of the first universities of the Spanish State in being acknowledged as Campus of International Excellence. This Program promotes alliances of institutions that have a common strategic project aiming to create an academic, scientific, entreprenurial and innovative environment to get a high international visibility. The University proposal is the project "UABCEI: Aposta pel coneixement i la innovació" (UABCIE: Committment to knowledge and innovation). This is an strategic plan that seeks to make a dynamic RDI environment aiming to make the UAB one of the best European Universities.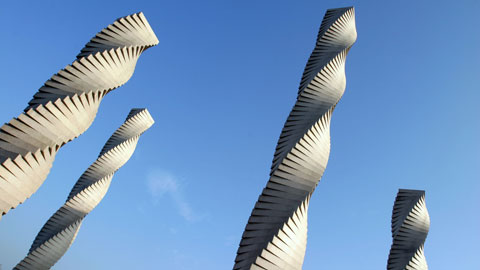 Recent Submissions
(Date of defense:

08-07-2016

)

Els contaminants emergents (ECs) són un ampli grup de compostos orgànics detectats en diversos compartiments ambientals que degut a la seva presència en el medi ambient i la seva difícil degradació han aixecat un gran ...

(Date of defense:

23-06-2016

)

L'escalfament global i la contaminació medioambiental han promogut la recerca científica i polítiques governamentals per tal de desenvolupar i aplicar processos de producció més sostenibles, un ús més racional de l'energia ...

(Date of defense:

06-05-2016

)

L'aplicació industrial de biofiltres percoladors per la dessulfuració de corrents de biogàs en condicions aeròbies requereix del desenvolupament i aplicació d'estratègies de control per poder aconseguir una operació robusta, ...

(Date of defense:

09-02-2016

)

La producció de proteïnes recombinants, tant per aplicacions terapèutiques com industrials, dóna lloc a un mercat que anualment genera milers de milions de dòlars. Entre els organismes hostes destacats que solen ser emprats ...

(Date of defense:

05-02-2016

)

L'ús cada cop més extensiu de plataformes "òmiques" per a l'estudi de llevats ha generat grans quantitats d'informació relativa a la fisiologia cel·lular sota diferents condicions de cultiu, la qual pot ser utilitzada per ...