Departament de Biologia Cel·lular, de Fisiologia i d'Immunologia
The Universitat Autònoma de Barcelona is a referent in Europe so much for its teaching quality as for its commitment to innovation in research. The University was founded in 1968 and it has become a model to follow because of its will to contribute to social progress by training the professionals required by the most dynamic economic and social sectors in the country.
The UAB was one of the first universities of the Spanish State in being acknowledged as Campus of International Excellence. This Program promotes alliances of institutions that have a common strategic project aiming to create an academic, scientific, entreprenurial and innovative environment to get a high international visibility. The University proposal is the project "UABCEI: Aposta pel coneixement i la innovació" (UABCIE: Committment to knowledge and innovation). This is an strategic plan that seeks to make a dynamic RDI environment aiming to make the UAB one of the best European Universities.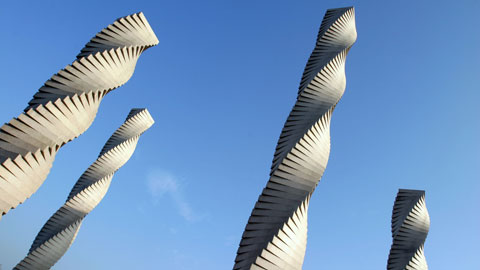 Recent Submissions
(Date of defense:

19-09-2016

)

Després d'una lesió del sistema nerviós perifèric, aquest té la capacitat de regenerar però la seva recuperació funcional sol ser limitada, principalment degut a la inespecificitat de la reinnervació dels òrgans perifèrics ...

(Date of defense:

25-07-2016

)

L'intestí gros desenvolupa una varietat de funcions essencials per a una utilització òptima dels aliments. Es necessiten diferents tipus de patrons de motilitat per dur a terme aquestes funcions i, en aquesta tesi, el ...

(Date of defense:

21-07-2016

)

Els dispositius neuroprostètics han anat evolucionant en els darrers anys amb l'objectiu de substituir o recuperar les funcions de extremitats en pacients amputats. No obstant, segons la literatura més actual, els avenços ...

(Date of defense:

15-07-2016

)

El genoma humà està format en un 5% per low-copy repeats (LCR); segments de DNA d'entre 1 i 500 Kb que es repeteixen dues o més vegades al llarg del genoma i que comparteixen una homologia superior al 90%. L'aparellament ...

(Date of defense:

22-07-2016

)

La respuesta inflamatoria juega un papel esencial protegiendo el cuerpo después de lesión o invasión por microorganismos, tales como bacterias y parásitos. Sin embargo, la inflamación debe ser un proceso altamente regulado, ...