Departament de Bioquímica i Biologia Molecular
The Universitat Autònoma de Barcelona is a referent in Europe so much for its teaching quality as for its commitment to innovation in research. The University was founded in 1968 and it has become a model to follow because of its will to contribute to social progress by training the professionals required by the most dynamic economic and social sectors in the country.
The UAB was one of the first universities of the Spanish State in being acknowledged as Campus of International Excellence. This Program promotes alliances of institutions that have a common strategic project aiming to create an academic, scientific, entreprenurial and innovative environment to get a high international visibility. The University proposal is the project "UABCEI: Aposta pel coneixement i la innovació" (UABCIE: Committment to knowledge and innovation). This is an strategic plan that seeks to make a dynamic RDI environment aiming to make the UAB one of the best European Universities.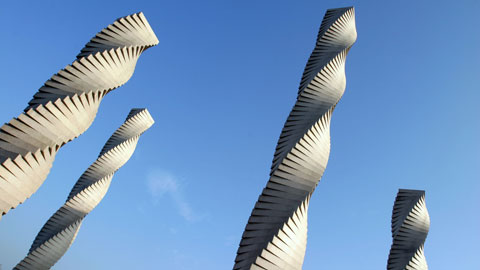 Recent Submissions
(Date of defense:

13-09-2016

)

El sexe masculí incrementa la incidència, prevalença i progressió de la malaltia renal crònica (MRC). No obstant, l'efecte de les hormones sexuals en la nefropatia diabètica (ND) està poc estudiat. El sistema renina-angiotensina ...

(Date of defense:

22-07-2016

)

La superfamília de les aldo-ceto reductases (AKR) comprèn un gran nombre de proteïnes monomèriques de localització citosòlica d'un un pes molecular d'aproximadament 36 kDa. Les AKRs tenen un plegament proteic comú evolutivament ...

(Date of defense:

04-07-2016

)

La bacteriorodopsina (bR) és una proteïna transmembrana amb 7 hèlixs α (7TM) anomenades de la A a la G amb un retinal unit a través d'una Base de Schiff a la Lys216 en l'hèlix G. La proteïna és nativa de l'arqueobacteri ...

(Date of defense:

12-07-2016

)

L'enzim convertidor d'angiotensina (ECA) 2 és una carboxipeptidasa que degrada l'angiotensina (Ang) II en Ang 1-7, contrarestant els efectes vasoconstrictors i deleteris de l'Ang II. L'activitat circulant de l'ECA2 està ...

(Date of defense:

08-07-2016

)

La proteína transportadora de esteroides sexuales (SHBG) se sintetiza en el hígado humano y es secretada a la sangre, donde une con gran afinidad andrógenos y estrógenos, regulando su biodisponibilidad y accesibilidad a ...